Cavalry Portfolio Services and Cavalry SPV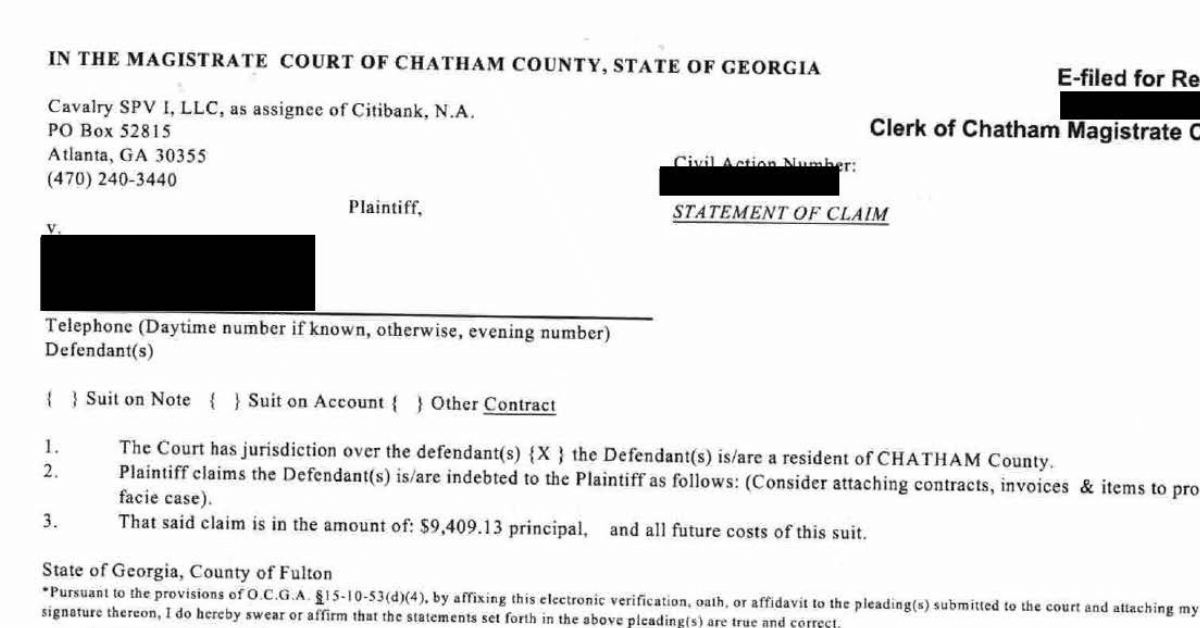 Who is Cavalry?
Cavalry is a debt buyer that buys debts for pennies on the dollar and files lawsuits against consumers for the full face value of the debt. Cavalry is headquartered in New York. It is a privately owned company. Cavalry's debt buying and collecting operations are completed through its affiliated companies. Cavalry Portfolio Services, LLC (2003) is a "servicer" and functions as the collector and manager of the Cavalry accounts owned by its "affiliates" Cavalry Investments, LLC (1998) (formerly known as Zirmack Investments, LP (1991)), Cavalry SPV I, LLC, and Cavalry SPV II, LLC. Cavalry Investments, LLC is the parent company to Cavalry SPV I, LLC (and presumably the parent company to Cavalry SPV II, LLC as well). Cavalry Investments Holdings, LLC is another associated entity. At one point, Cavalry's company motto was "Cavalry … to the rescue!" Apparently, they are rescuing you from your debt by suing you…?
To understand how the debt buying process works, see my post, What is a Debt Buyer?
How big is Cavalry?
In 2003, Andrew Zaro, founder and owner of Cavalry, is quoted as saying "[Nearly] two and a half million people owe us money." As of the date of this writing, that was 20 years ago! I imagine a lot more than that owe Cavalry these days. In 2003, the same article said that Cavalry Investments had an "$8 billion (face value) portfolio of bad credit card and auto loans, aged six months to eight years." In 2006, that number grew to $14 billion portfolio of receivables. It's hard to get an idea of its current net worth since it's a privately traded company and it doesn't appear Andrew Zaro has issued any press releases about that in recent years. It does operate out of a few different states and is estimated to have somewhere between 400 and 600 employees.
Cavalry founder Andrew Zaro likes media coverage on his large homes and valuable art collections.
In 2015, Andrew Zaro, Cavalry's CEO, bought a newly built home in Beverly Hills for $11 million. In 2017, he purchased another home in the Hamptons, this time for $40 million and this one even has its own private island! In 2019, Zaro joined the "billionaire buyers club" with a purchase of a penthouse in New York. In 2022, his actress wife did an interview about the renovation and decoration of their insanely gorgeous Central Park NY penthouse and their expensive art collection. Must be nice.
Cavalry Lawsuits in Georgia
In 2021 and 2022, Cavalry filed more than 4,000 lawsuits against Georgia consumers. This doesn't put it near the top three debt buyer lawsuit filers for Georgia (Midland, LVNV Funding, Portfolio Recovery Associates) but it still gains an honorable mention. The majority of lawsuits filed by Cavalry in Georgia are filed by debt collection law firms Aldridge Pite & Haan, Mandarich Law Group, Hayt Hayt and Landau, and Andreu, Palma, Lavin & Solis, PLLC.
Cavalry buys debts from banks, lenders, and other institutions such as:
Citibank
Comenity Bank
Capital One Bank
Department Stores National Bank
Synchrony Bank
WebBank
Avant
Cavalry Behaving Badly
in 2013, the attorney general of the state of West Virginia sued Cavalry for not complying with its debt buyer licensing laws. In 2016, without admitting any liability, Cavalry settled West Virginia's claim by agreeing to cease efforts to collect $19.7 million (face value of debt) from 2,847 consumers and pay the state $350,000.
In 2013, the Arizona Department of Financial Institutions conducted an investigation into Cavalry's debt collection practices arising from a number of consumer complaints regarding Cavalry between 2007 and 2013. Without admitting any liability, Cavalry settled its issues with Arizona by agreeing to pay a fine of $175,000.
Are you being sued by Cavalry?
I have handled numerous Cavalry cases. You don't have to go through this alone. You have affordable options. Contact me to schedule a free consultation.