Plaza Services LLC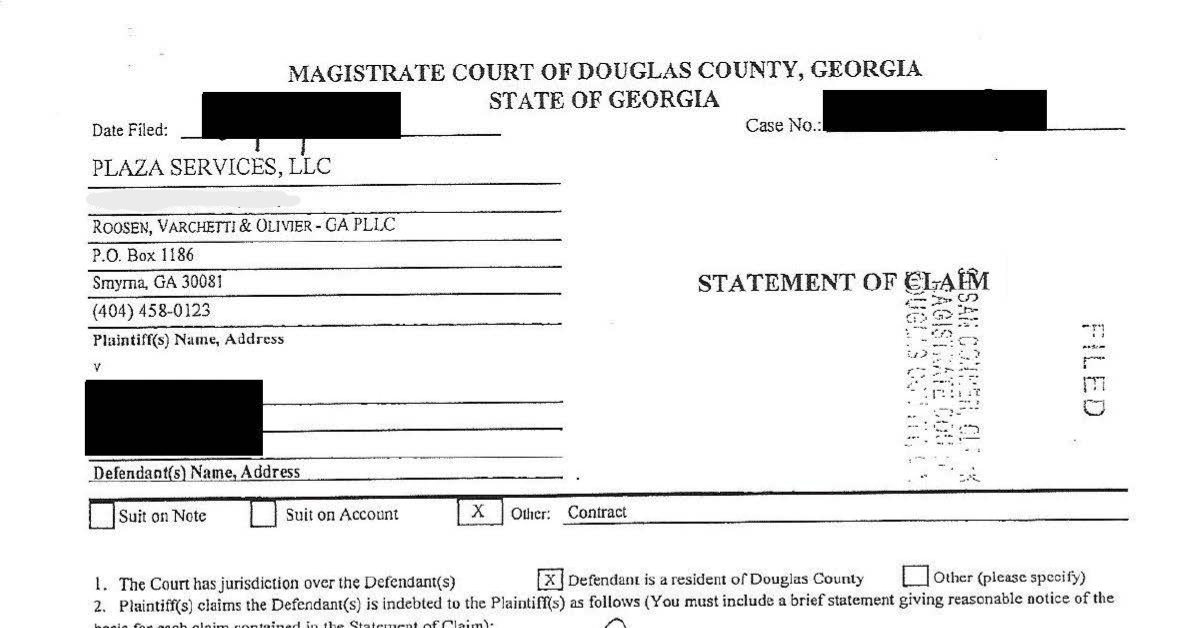 Plaza Services LLC is a debt buyer based in Atlanta, Georgia who files lawsuits against consumers through debt collection law firm Roosen Varchetti & Olivier GA PLLC. It was formed in South Dakota in 2013. Its business address is 110 Hammond Drive, Suite 110, Atlanta, GA 30328 and has 20 or less employees. It has also used the trade name Plaza Services of Atlanta, LLC. Plaza Services has been or is managed by SEUSA Management, LLC and Bth Management LLC. Volunteer Capital Management LLC is another associated entity.
In 2020, Plaza Services received a (forgiven) corona/ppp/bailout loan in the amount of $204,648 reporting that it had 15 employees.
Plaza Services LLC files lawsuits against consumers claiming to be an assignee of lenders, debt buyers, and others including: "NC Financial Solutions of Georgia LLC d/b/a/ Net Credit", Regional Finance Company of Georgia LLC, Pentagon Federal Credit Union, Santander, Cross River Bank, and others.
Between September 2019 and March 2023, Plaza filed 845 lawsuits in Georgia courts. (Not all Georgia courts report electronically so it is difficult to know how much higher the actual number may be). In the vast majority of its lawsuits, it claimed to be an assignee of debts allegedly purchased from "NC Financial Solutions of Georgia LLC d/b/a/ Net Credit". In my experience, these types of loans have very high-interest rates to begin with. Plaza Services purchases these loans at pennies on the dollar and sues the consumer for the entire amount alleged to be due.
Are you being sued by Plaza Services?
You don't have to go through this alone. You have affordable options. Contact me to schedule a free consultation.
Contact Me Now