Crown Asset Management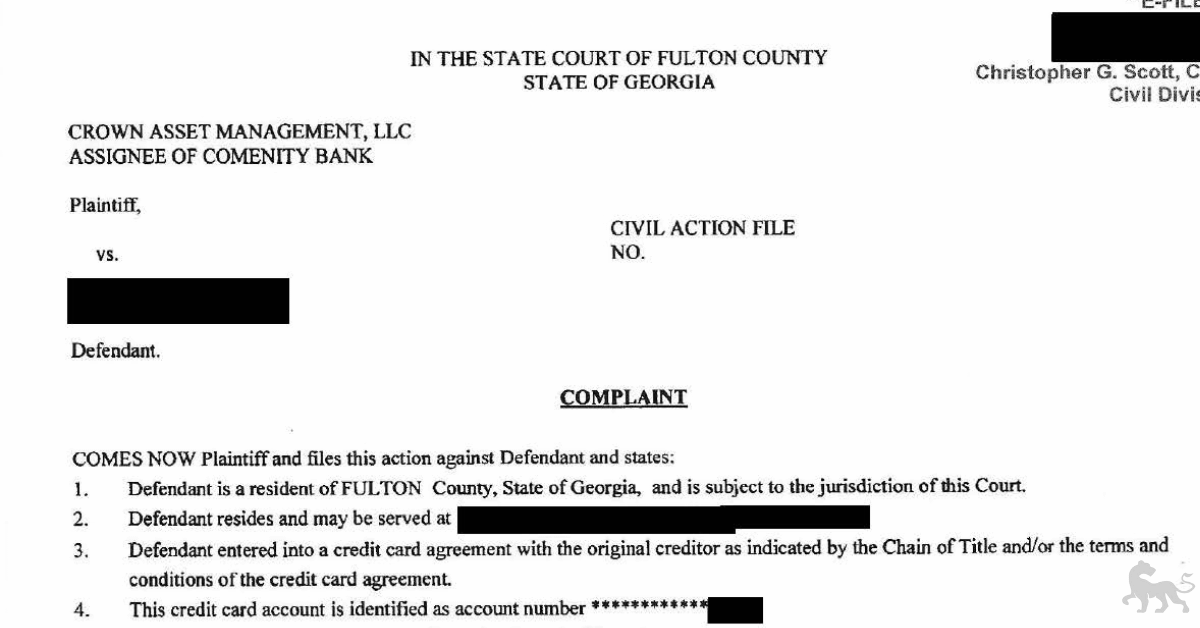 Who is Crown Asset Management?
Crown Asset Management was founded in 2004 by Brian K. Williams. Its address is 3100 Breckinridge Boulevard, Suite 725, Duluth, Georgia 30096. According to its website, Crown has purchased over five hundred portfolios (each presumably including thousands of debts), including portfolios originated as credit card accounts, automobile loans, consumer loans, marketplace lending, judgments, and other types of specialty portfolios.
To understand how the debt buying process works, see my post, What is a Debt Buyer?
Crown Asset Management Lawsuits in Georgia
Crown Asset Management has filed more than 4,000 lawsuits against Georgia consumers since 2019. Overall, Crown Asset is not filing lawsuits in Georgia on the scale of debt-buying giants, Midland, LVNV Funding, and Portfolio Recovery Associates, but they might be in the top five. It doesn't collect on its own debt – it utilizes other debt collectors and debt collection law firms to collect its debt. Another debt buyer, Second Round, also services some of Crown's accounts. In Georgia, Crown files lawsuits against consumers through debt collection law firms Ragan & Ragan, PC, Hayt Hayt & Landau, and Rausch Sturm.
Crown files lawsuits on debts that it allegedly purchases from banks, lenders, and other institutions such as:
Bank of Missouri
Barclays Bank
Celtic Bank
Citibank
Comenity Bank
Comenity Capital Bank
Dell Financial Services, LLC
Department Stores National Bank
First Electronic Bank
First Investors Financial Services
First National Bank of Omaha
Genesis FS Card Services 
Great American Finance
Prosper Funding
Santander Consumer USA Inc
Synchrony Bank
WebBank
Are you being sued by Crown Asset Management?
Contact me to schedule a free consultation.