Portfolio Recovery Associates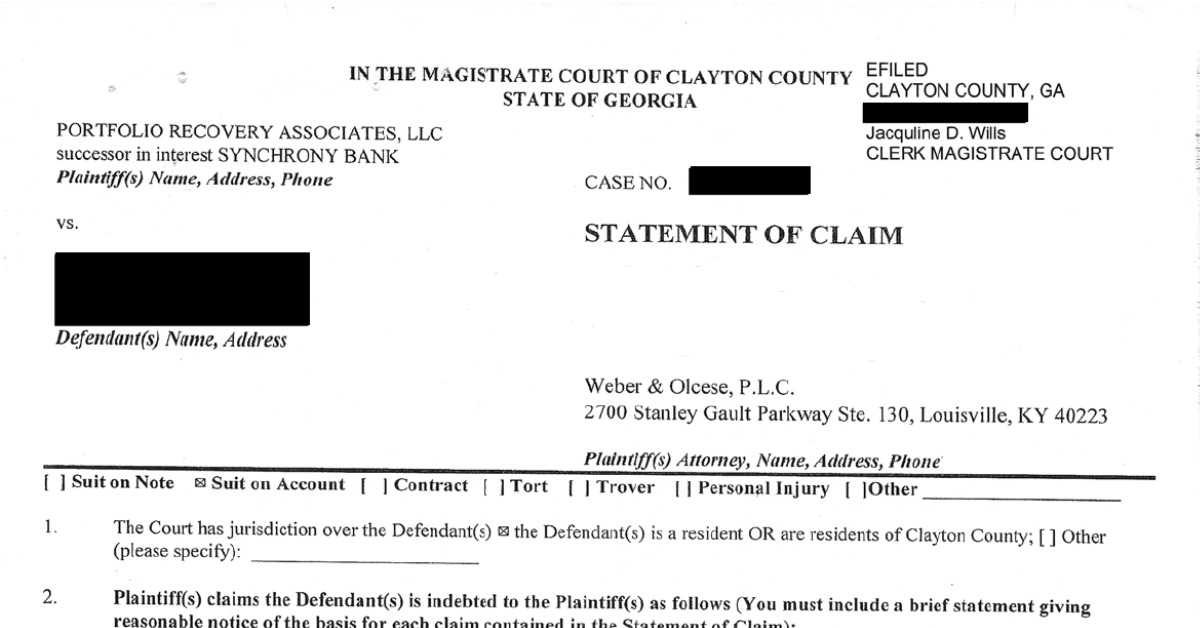 Portfolio Recovery Associates, LLC is a wholly owned subsidiary of debt buying giant PRA Group, Inc. Most consumers interface with PRA Group's wholly owned subsidiary, Portfolio Recovery Associates, LLC, which frequently files lawsuits against consumers all across the U.S. Unless other stated herein, references to "PRA" means PRA Group, Inc. and its subsidiaries collectively. It was founded in 1996 and is one of the oldest debt buyers in the market. As of December 2021, PRA employed 3,446 full time employees across 18 countries. Its headquarters is located at 120 Corporate Boulevard, Norfolk, Virginia 23502.
Second Largest Debt Buyer in U.S.
Since formation in 1996, PRA has acquired 59 million "customer" accounts in the U.S from banks, lenders and other institutions. PRA purchases "portfolios" of debts for pennies on the dollar and pursues consumers for the full face value of the debt. In 2022, PRA purchased portfolios of debts with a face value of $850 million. PRA didn't pay $850 million for these debts, however. In fact, they paid a mere fraction of the debts face value and will make their profit by going after consumers for the full face amount of the debt. During the height of the pandemic in 2021, PRA saw one of the most successful years it has ever had financially since 1996. It's cash collections were $2.7 billion, generated revenue of $7.7 billion, and generated $183 million in net income. In 2015, the CFPB called PRA the nation's second largest debt buyer and collector behind Midland Credit Managment aka Midland Funding aka Encore Capital Group, Inc.
Portfolio Recovery Associates buys debts from banks, lenders and others including:
Capital One Bank
Synchrony Bank
Citibank
Comenity Bank
U.S. Bank
Barclays Bank
GE Capital Retail Bank
HSBC Bank Nevada, N.A.
World Financial Network Bank
WebBank
Fifth Third Bank
First Bank & Trust
Dell Financial Services, LLC
Department Stores National Bank
FIA Card Services
Lawsuits against consumers in Georgia
Since 2019, Portfolio Recovery Associates has filed more than 8,000 lawsuits against consumers in Georgia. The majority of lawsuits filed by PRA against consumers in Georgia are filed by their own in-house attorneys. In fact, it appears that they will continue to move more of their legal collections inhouse, rather than using local based debt collection law firms, as they have seen an increase in profitability in doing so. However, Portfolio Recovery Associates still uses some debt collection law firms to file lawsuits in Georgia including Weber & Olcese, Cooling & Winter, Pollack & Rosen, and Brock & Scott. PRA has "contingency fee" arrangements with its outside debt collection law firms. This means, the more the lawfirm collects on PRA's behalf, the more money they earn. In 2021, PRA's external contingency fees totalled $47.2 million and in 2020, $53.8 million (for all external law firms across the U.S.)
"An important component of our collections efforts involves our legal recovery operations and the judicial collection of balances from customers who, in general, we beleive have the ability, but not the willingness, to resolve their obligations." ". . .in the majority of instances, we use models and analysis to select those accounts reflecting a high propensity to pay in a legal enviornment."

PRA Group, Inc. Annual Report 2021
Bad Behavior
In September 2015, PRA entered into a consent order with the CFPB to resolve several allegations of illegal debt collection behavior. PRA had to pay $19 million in consumer refunds and an $8 million penalty, and stop collecting on over $3 million worth of debts. It also had to agree not to sell any of its debts to other debt buyers. Apparently, this slap on the wrist didn't do much good. PRA is alleged to have violated this consent order and continued with its illegal debt collection actions. The CFPB says that PRA violated the 2015 order by collecting on unsubstantiated debt, collecting on debt without providing required documentation and disclosures to consumers, suing or threatening legal action against consumers without offering or possessing required documentation, and suing to collect on debt outside the statute of limitations. It also said that PRA failed to properly investigate and resolve consumer disputes about the company's credit reporting.
Once again the CFPB reached a settlement agreement with PRA to resolve these allegations without PRA making any admission of wrongdoing. This time PRA agreed to pay more than $12 million to consumers harmed by its illegal debt collection practices plus a $12 million penalty that would be deposited into the CFPB's victims relief fund. PRA issued its own press release about the settlement saying that the affect consumers "represent less than one-tenth of 1% of PRA's active accounts." They also stated to their investors that "this agreement is not expected to have a material adverse impact on the company's financial condition or results of operations." Well, thats only a small fraction of their previous year's net income so I doubt this will be the last action we see against Portfolio Recovery Associates.
Are you being sued by Portfolio Recovery Associates?
You don't have to go through this alone. You have affordable options. Contact me to schedule a free consultation.
Contact Me Now