Midland Credit Management, the biggest debt buyer in the U.S.
Through its parent corporation, Midland Funding / Midland Credit Management is the biggest debt buyer in the United States.
If you are interested in hearing more about my personal experience of being sued by a debt buyer, Check out my interview with WSBTV Channel 2 news.
Dear Midland,
You hold a very special place in my heart! Thank you for suing me many years ago and leading me to realize I should be become a lawyer and fight debt-collection lawsuits on behalf of consumers.
XOXO Jillian Sandt, Attorney at Law
Company Background
To understand how the debt buying process works, see my article, What is a Debt Buyer?
Midland Funding LLC and Midland Credit Management, Inc. are legal entities used as a "vehicle" to sue consumers across the United States. Midland's parent company, Encore Capital Group, Inc., is a publicly-traded company based out of California. Encore Capital Group, Inc. and its subsidiaries (including Midland Funding, LLC, Midland Credit Management, and Asset Acceptance Capital Corp.) are the nation's largest debt buyer and collector. The "servicer" of the debt is Midland Credit Management (Kansas) and it is often this legal entity from which you will see credit reporting entries, collection letters, and lawsuit affidavits. As of 2021, Midland Credit Management has also been known to file lawsuits against consumers. Other legal entities associated with Midland include Midland Funding NCC-2 Corporation (Delaware), Midland Portfolio Services, Inc (Delaware), MRC Receivables Corporation (Delaware), and Atlantic Credit & Finance. Because Encore uses its "Midland" entities to interact with consumers, this post refers to Midland and Midland Funding generally to refer to the corporate family.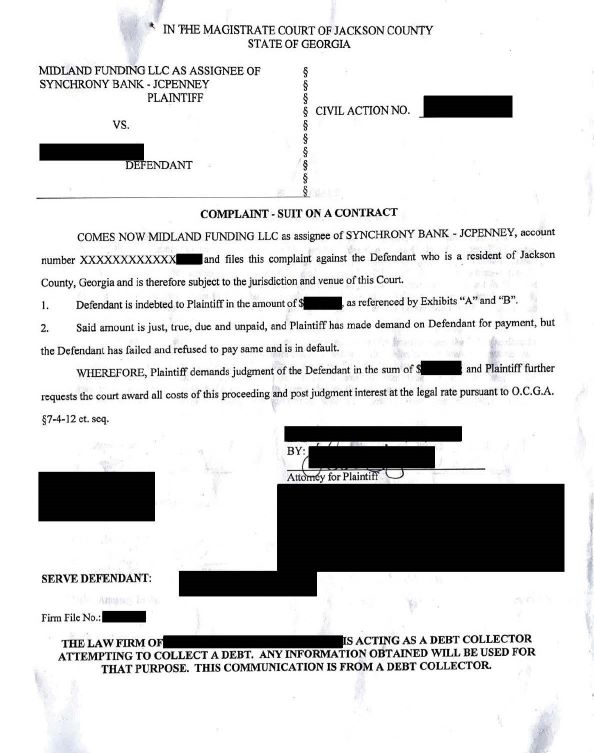 How does Midland to get people to pay?
Midland uses the usual debt collector tools to get people to pay them: letters, phone calls, and lawsuits. If you are confused why a company you may have never heard of is suing you, it might surprise you to learn that about half of Midland's collections are through the "legal" channel. This means they file lots of lawsuits and garnishments against people in courts across the United States to collect on the debts they purchased.
A quick search of the online dockets of the Georgia courts in Fulton County, DeKalb County, and Gwinnett County shows that Midland Funding filed 683 lawsuits against Georgians within about ONE MONTH period in 2019.
For Midland, they know that filing lawsuits against people and garnishing wages and bank accounts are very effective methods to collect debts and they are making a lot of money doing it.
Midland buys Charged Off Debt at Pennies on the Dollar ($0.13 in 2018) and Collects the Total Amount of the Debt from You.
During 2018, the Midland family bought portfolios of debt (mostly charged off credit cards) valued at $8.5 bllion dollars for a purchase price of 13.3% of face value.
Consider this example to understand what purchasing for pennies on the dollar means: You owe your credit card company $1,000 on a credit card debt. You stop paying and the debt gets charged off. The credit card company sells that credit card debt worth $1,000 to a debt buyer like Midland Funding for $130 (13%). The debt buyer then goes after you for the $1,000. If the debt buyer is successful in collecting the full $1,000 from you, it made $870 in profit (minus expenses).
That's a pretty good return on investment. Of course, the debt buyer won't always be able to collect the full amount or any amount at all.
Are you being sued by Midland Funding?
I have handled numerous Mindland Funding cases. You don't have to go through this alone. You have affordable options. Contact me to schedule a free consultation.