LVNV Funding The 2nd Biggest Debt Buyer Lawsuit Filer in Georgia!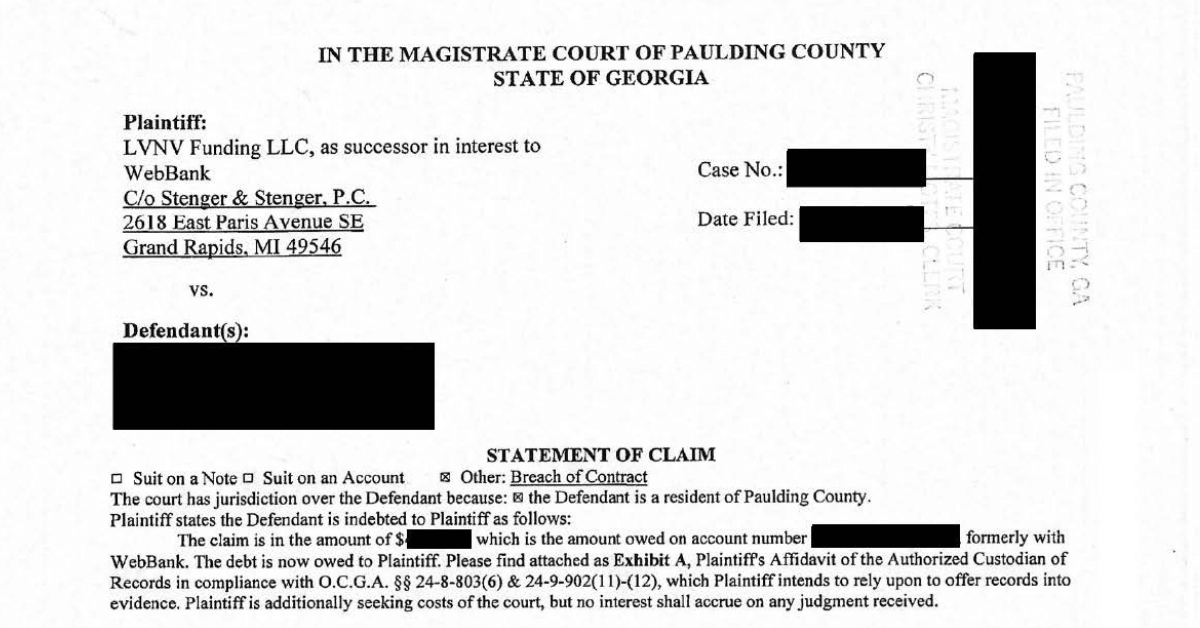 DO NOT PAY LVNV FUNDING BEFORE CALLING ME FOR A FREE CASE CONSULTATION>>>
Are you being sued by LVNV Funding in Georgia? You are not alone!
Behind debt buyer giant Midland Credit Management, LVNV Funding comes in second place for the number of lawsuits filed by a debt buyer in Georgia. In 2022 alone, LVNV Funding filed more than 8,000 lawsuits against consumers in Georgia. This doesn't even count the garnishments and other legal actions taken after they get a judgment against consumers! The vast majority of the lawsuits filed by LVNV Funding against consumers end up as default judgments. This means the consumer did nothing in response to being sued and lost because they didn't file any response to the lawsuit. Don't be one of those people!
Michigan-based debt collection law firm Stenger & Stenger files the majority of the LVNV Funding lawsuits in Georgia. Other debt-collection law firms who file lawsuits in Georgia on behalf of LVNV Funding are Law Office of Emmett L. Goodman, Jr. LLC, Hayt Hayt & Landau, Lloyd & McDaniel, PLC, and Aldridge Pite Haan.
Who is LVNV Funding?
Headquartered in Greenville, South Carolina, LVNV Funding is one of the largest debt buyers in the United States. It is a privately owned company. LVNV Funding LLC is part of a complicated structure of legal entities that finance, purchase, service, and sell portfolios of defaulted debt acquired from banks, lenders, and other debt buyers. LVNV Funding LLC's accounts are managed by a related company, Resurgent Capital Services.
To understand how the debt buying process works, see my post, What is a Debt Buyer?
LVNV Funding buys debts from banks, lenders, and other institutions such as:
Avant Capital Parntership
Avant Credit
Avant II
Avant Loans Funding
Avant of New Jersey
Bank of Missouri
Barclays Bank Delaware
Capital One Bank
Citibank
Citizens Bank
Comenity Bank
Comenity Capital Bank
Credit One Bank
Cross River Bank
First Bank & Trust
Goldman Sachs Bank
HSBC Bank Nevada
LC Trust 1
LendingClub Corp
Loan Assets Holding
Marlette Funding
Metabank
Navy Federal Credit Union
Pagaya AI Debt Selection
Pentagon Federal Credit Union
Prosper Marketplace
Security First Bank
SoFi Lending Corporation
Sterling Jewelers
Synchrony Bank
Synovous
UMB Bank
US Bank
WebBank
WSFS, FSB
LVNV Funding's tangled web of corporate entities including Resurgent.
If you are reading this page about LVNV Funding, you probably received communications (or a lawsuit) from LVNV Funding or Resurgent or noticed them on your credit reports. Generally, LVNV Funding, LLC a the corporate entity that is used to sue consumers in Georgia for defaulted debts acquired by banks, lenders, and other debt buyers. LVNV Funding, LLC is a small part of a complicated legal structure. Generally, as a consumer, you will likely have exposure to either LVNV Funding, LLC or Resurgent Capital Services. If LVNV Funding LLC has filed a lawsuit against you, they may have attached several documents to the lawsuit which they contend comprises the "chain of title" of the debt that includes several "Sherman" entities. (A Chain of Title refers to the collection of documents that together allegedly show how the debt was "assigned" or transferred from the original creditor to any subsequent creditors and ultimately to the party that is claiming present ownership of the debt.)
Here are some of the legal entities associated with LVNV Funding and its parent/affiliate companies:
Resurgent Capital Services Limited Partnership a/k/a Resurgent Capital
Services L.P., f/k/a Alegis Group L.P
Sherman Originator LLC 
Alegis Group LLC
Sherman Financial Group LLC
Sherman Capital Markets LLC
Sherman Acquisition L.P.
Sherman Acquisition LLC
Sherman Acquisition II L.P.
Sherman Acquisition II General Partnership LLC
Sherman Capital LLC
Meeting Street Partners II Inc.
Credit One Bank
Does LVNV Funding claim to have purchased a debt from Credit One Bank?
Credit One Bank is a wholly-owned subsidiary of Credit One Financial (COF). COF is a Subchapter-S corporation that is affiliated with Sherman Financial Group, LLC through common beneficial ownership. Sherman, a diversified consumer finance company, is privately held and located in Charleston, SC. Source: Community Reinvestment Act Performance Evaluation Charter No. 20291 (occ.gov)  As described above, Sherman is a related legal entity to LVNV Funding LLC.
Credit One Bank focuses on extending credit cards to individuals with low credit scores.  When/if the account goes into default and charges off, Credit One Bank then sells the account to its related debt-buying company, LVNV Funding LLC, which attempts collection efforts such as filing lawsuits.  Oftentimes, the credit card accounts were low credit limits (i.e. $300) with very high-interest rates.  The resulting charged-off balance comprises mostly of interest and fees and is much greater than the original credit limit.  
The Sherman related entities also sell charged off Credit One Bank debts to the number one largest debt buyer, Midland Credit Management.
Are you being sued by LVNV Funding?
I have handled numerous LVNV Funding cases.  You don't have to go through this alone.  You have affordable options.  Contact me to schedule a free consultation.