Second Round LP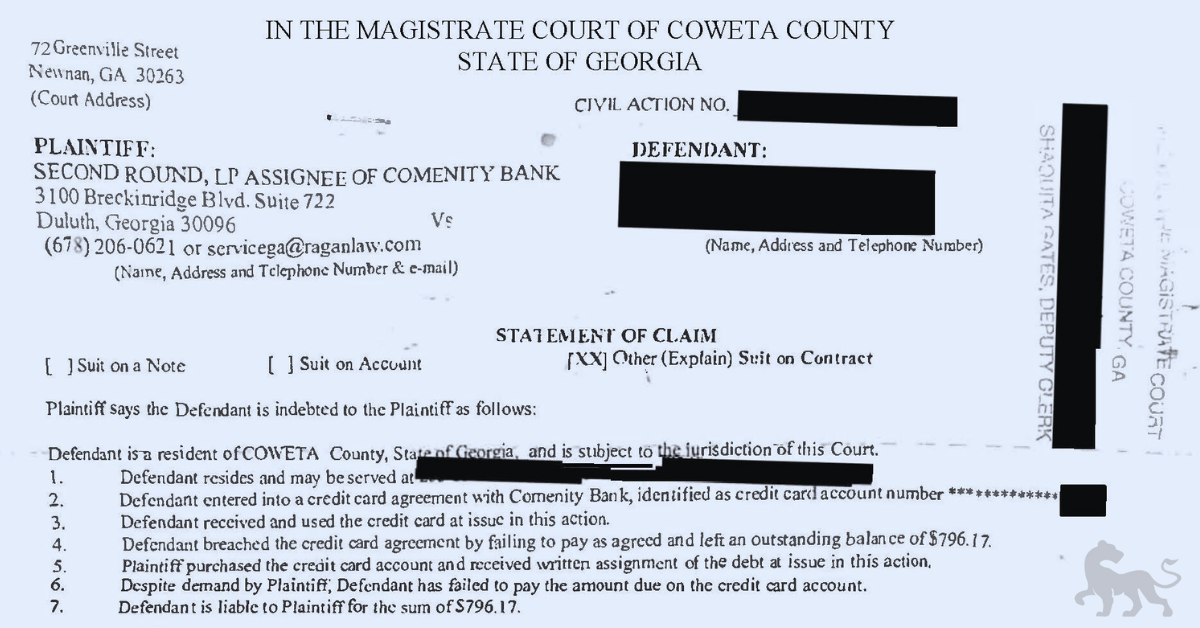 Who is Second Round?
Second Round is a debt buyer that buys charged-off debts for pennies on the dollar and files lawsuits against consumers for the full amount of the debt. It was established around 2008 and is based out of Austin, Texas. It is estimated that is has less than 50 employees. Its founder and CEO is Larry Vasbinder (formerly associated with debt buyer Paragon Way, Inc.). Second Round also uses an affiliated company to file lawsuits, Second Round Sub LP, by transferring the debt to that entity to file suit. Other associated entities include Third Round LP, CAM Holdings LLC, and Second Round GP LLC. Debt buyer Crown Asset Management LLC places some of its accounts with Second Round for "servicing."
To understand how the debt buying process works, see my post, What is a Debt Buyer?
Second Round Lawsuits in Georgia
Since 2019, Second Round has filed more than 900 lawsuits against consumers in Georgia. The majority of these lawsuits filed by Second Round are filed through debt collection law firms Reagin & Reagin and Hayt Hayt and Landau. It buys debts from banks, lenders, and other institutions such as Citibank, Comenity Bank, and Synchrony Bank. According to its website, Second Round, LP specializes in consumer debt markets such as credit cards, auto deficiencies, utility, and FinTech accounts.
Generally, Sound Round is a smaller debt buyer in relation to some of the other giants filing lawsuits in Georgia (Midland, LVNV Funding, Portfolio Recovery Associates, etc.). However, you should still take them seriously as they could get a judgment against you if you fail to properly respond to a lawsuit. A judgment could result in garnishment of bank accounts, wages, or liens on property. Generally, a judgment in Georgia is renewable and can last indefinitely if properly renewed!
Are you being sued by Second Round?
Contact me to schedule a free consultation.