Jefferson Capital Systems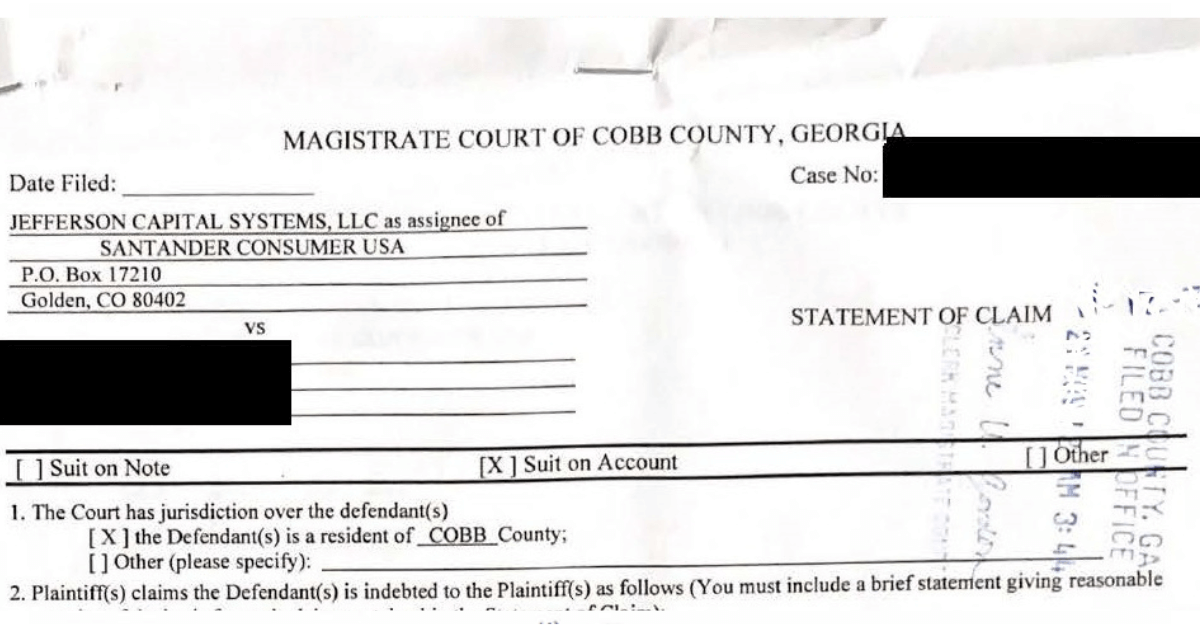 Who is Jefferson Capital?
Jefferson Capital Systems (JCAP) is a debt buyer that buys debts for pennies on the dollar and files lawsuits against consumers across the U.S. for the total face amount of the debt. Per its website, it claims to be the 4th biggest debt buyer in the U.S. (presumably behind debt-buying giants Midland Credit Management, Portfolio Recovery Associates and LVNV Funding. JCAP was established in 2002. CL Holdings, LLC is the parent company of JCAP after acquiring it in 2012 from the previous owner Atlanta-based CompuCredit. Another JCAP-associated entity is JCAP Funding LLC.
Jefferson Capital Lawsuits in Georgia
In 2022, JCAP filed over 2,000 lawsuits against Georgia consumers. JCAP files the majority of its cases in Georgia through its own in-house legal department. However, it also uses external debt collection law firms to file lawsuits including Hayt Hayt & Landau and Roosen, Varchetti & Olivier, GA PLLC.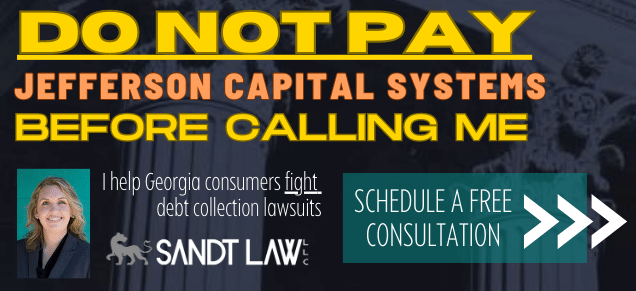 Jefferson Capital buys debts from banks, lenders, and other debt buyers.
Jefferson Capital files lawsuits against consumers in Georgia claiming to have purchased debts from the following banks, lenders, and other institutions:
American Credit Acceptance
AutoNation
Barclays Bank Delaware
Capital Bank
Capital One Bank
CarMax Auto
Cars and Credit Assistance
CIT Bank
Comenity Bank
Consumer Portfolio Services
Credit One Bank
Cross River Bank
DT Acceptance Corp
Enerbank USA
Exeter Finance
Fifth Third Bank
First Bank & Trust
GFC Lending
HSBC Bank Nevada
Metabank
Midcountry Bank FSB
OneMain Financial Group LLC
OneMain Financial Services
Pioneer Funding Inc.
PNC Bank
Regional Finance of GA LLC
Santander Consumer USA
Synchrony Bank
US Auto Finance
WebBank
and numerous car leaderships.
Are you being sued by Jefferson Capital?
Before you make any agreements with JCAP, contact me today to schedule a free case consultation.
Contact Me Now
---